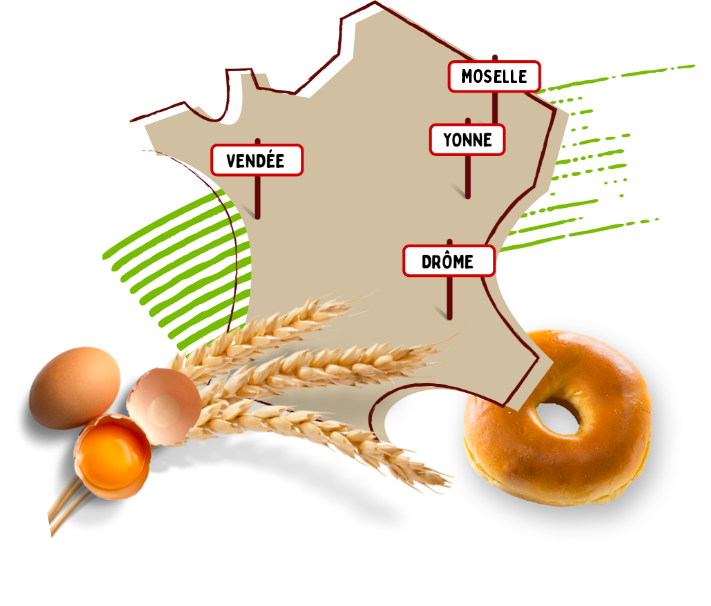 GOURMET SPECIALITIES

TO THE GOOD TASTE OF OUR TERROIRS
Curious by nature, we are constantly looking for new ideas to delight young and
old. In the four corners of France, we cultivate our know-how, we constantly improve our original and
authentic recipes. We are very proud to perpetuate the ancestral specialities of our regions such as the
Vendée Gâche, the Drômoise Pogne and the famous Brioche Nanterre. La Fournee Doree is a 100%
French production, developed with passion in our 4 manufacturing workshops.

WITH US, NO CHITCHAT

ONLY GOOD THINGS!
Because making good products requires good ingredients, we choose them with the utmost attention
from the rigorously selected suppliers to guarantee you an inimitable taste for more than 25 years.
Additives, preservatives and palm oil, no thanks! We do everything we can to remove them as much as
possible and we indicate very clearly the compositions while keeping the softness of our products. And if
there are some, we tell you.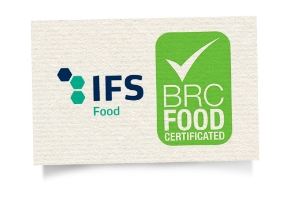 IF WE ARE SUPER-SERIOUS ABOUT QUALITY,

IT IS SO OUR CHILDREN CAN ALSO LAUGH AT SNACK TIME.
Since 2004, we are BRC/IFS certified. This certification guarantees the highest levels of product safety.
Regular checks are carried out on all of our production stages
(receipt of raw materials, manufacturing, finished products, etc.).
We also ensure strict traceability rules on the origin, date and exact time of manufacture of our brioches.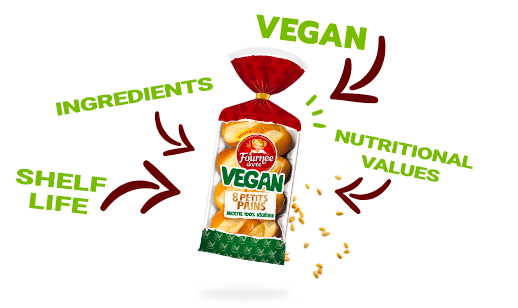 WE LOVE CROISSANTS

AND ALSO SINCERITY
Because we have nothing to hide, most of our packaging is transparent so that at a glance you can enjoy
our tasty products. All the information (ingredients, minimum storage date, nutritional values) are easily readable.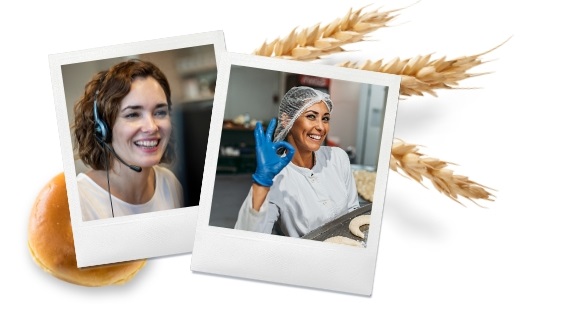 OUR DESIRE:

IT IS TO MAKE YOU HAPPY!
La Fournee Doree is a company run by women and men with a melting heart, who want to make every
moment of tasting a little piece of childhood. Our team of passionate people is at your disposal to answer
all your requests with a responsive team and at your disposal. If you do not find the answer to your
question in our FAQ, do not hesitate to contact us.
We will not fail to answer you and take your comments into account!!
Find out about
our other commitments

SUSTAINABLE DEVELOPMENT
PRESERVE THE FUTURE
Because we all want to live on a beautiful planet which lasts, we stand for sustainable development through specific actions.

Human aspect
HAVING A GOOD HEART
Dreaming of a respectful and generous company is good. Doing everything so everyone can flourish in their work is better!